As news of economic turbulence circulates through your feeds, you may be wondering about the security of your own funds. We want to take a moment to answer your questions and concerns. Before we jump into the specifics, you should know one key thing: Your funds at Idaho Central Credit Union remain safe and secure.
Why is my money safer at Idaho Central Credit Union?
Traditional banks answer to stockholders whose main priority is to see a return on their investments. Credit unions, on the other hand, are not-for-profit organizations.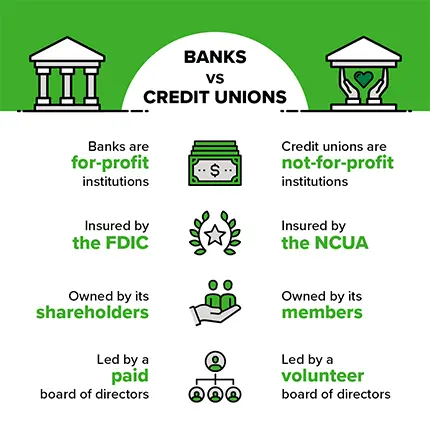 Idaho Central is made for members, by members. Our board of directors is comprised of ICCU members who have been voted in by members like you. We serve Idaho and its neighbors, not Wall Street. That's why Idaho Central Credit Union will always prioritize safety and stability instead of profits.
Is ICCU federally insured?
Idaho Central is federally insured by the National Credit Union Association (NCUA). Like the FDIC, the NCUA insures $250,000 per member, per ownership category.
In other words, a member with a single-ownership account (like an individual checking account) has coverage for $250,000. A member who has deposits in an individual checking and joint checking account has coverage for $500,000.
That said, no credit union member has ever lost a penny of federally insured savings held in a credit union.
How do I maximize my NCUA insurance coverage?
To maximize your coverage, you'll want to strategically structure your accounts to fit the "per member, per ownership category" rule. We recommend researching which ownership category each of your accounts falls under. NCUA's "Your Insured Funds" brochure and its Share Insurance Estimator are good places to start.
The NCUA provides the $250,000 coverage for each of these ownership categories:
Single accounts (one account owner)
Joint accounts (multiple account owners)
Certain retirement accounts
Revocable trust accounts
Irrevocable trust accounts
Employee benefit plan accounts
Check out the table below to see how a family of three can insure up to $2.5 million by structuring their accounts strategically.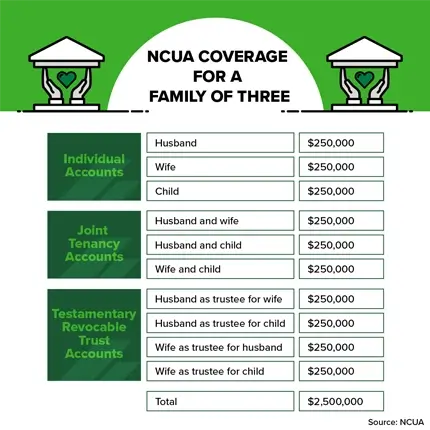 I have more questions. Where can I go to find more information?
While it's ultimately up to you to decide how to protect your finances, we're committed to providing as many answers and resources as possible.
If you have general questions about Idaho Central Credit Union's stability and longevity, feel free to visit your local branch or call us at 1-800-456-5067. You can also check out our newest podcast "Financial Strength" to learn more about the safety of your funds.
For more information about credit union insurance coverage, visit NCUA's official site and newsroom.