$25 Cash Back and Low Intro APR*
Apply for a Rewards Visa Credit Card and earn $25 cash back when you spend $500 a month for the first 3 months after opening the card. Plus, get 0% intro APR for 6 months, after that a variable APR of 13.74% – 17.99%.*
1 point per $1.00 spent on purchases
Next-day cash back available
2X seasonal bonus point categories
Earn even more at participating merchants
*Bonus point offer is only applicable for new consumer ICCU Rewards Visa Credit Cards. New consumer ICCU Rewards Card accounts earn 4,000 points. 4,000 points is equivalent to $25 cash back. Cash back paid as statement credit to cardholder. Cash back redeemable at rewards.iccu.com. Cardholder(s) must spend an account aggregate of $500 every 30 days for the first 90 days from account opening to receive bonus point rewards. Bonus point earnings will be applied and eligibility will be calculated at the account level, not by card. Only new purchases and transactions posted with code CCP that earn points are eligible for rewards. Balance transfers do not qualify for points. Bonus points will be awarded once to each qualifying member account. Points will be posted during the first full month following the promotion and 90-day spend period. The 0% introductory APR on new purchases is only valid for the first 6 months immediately following the opening of the account(s), after that the variable APR of 13.74% – 17.99% will be applied. Must apply and be approved for a new ICCU consumer Traditional Rewards Visa Credit Card to participate. Offer not valid for ICCU Business Rewards Cards, for members who currently hold an ICCU Rewards or Premier Rewards account, or for members who have previously had a Rewards or Premier Rewards account that is now closed. All loans OAC.
Rewarding You With Benefits
With an Idaho Central Rewards Visa Credit Card, you'll have confidence that your money is safe and secure. Plus, you can have more peace of mind when making daily purchases or when you travel.
Low Interest & No Fees
Great low rates
No annual fee
No balance transfer fees
No cash advance fees
Security & Protection
Payment protection availability
Zero fraud liability
20-25 day grace period on purchases
Your Everyday Purchases Will Really Pay Off
Redeem your points for cash back, gift cards, travel, and more!
Cash
Get next-day cash back! All cash back requests submitted before 4:59 pm MT will be credited to your Visa Rewards card balance the very next day and you can spend it wherever or whenever, on whatever you'd like.
Travel
Spontaneous or planned, however you choose to travel; Idaho Central Credit Union Visa Rewards offers a wide range of getaways to suit your style.
Gift Cards
Treat yourself to a day of shopping followed by a night on the town. Enjoy a variety of gift card reward options including dining, shopping, entertainment and more!
Merchandise
With Idaho Central Credit Union Visa Rewards' extensive merchandise selection, you'll be sure to find the reward item you've been saving for! Browse hundreds of rewards including cameras, tablets, gaming consoles and more!
Take Charge With CardControl
It's your money so you deserve to run the controls. With CardControl you can control all your ICCU Visa cards in ICCU's eBranch Mobile App or Online Banking. Simple, easy, and in control. Keep up the good work!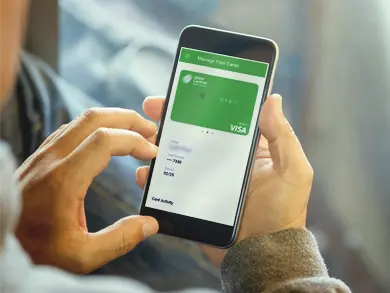 Visa Credit Cards
| Type | APR* | Grace Period for Purchases | Annual Fee |
| --- | --- | --- | --- |
| Premier Rewards | variable rate as low as 17.74% | 20 to 25 days | None |
| Rewards | variable rate as low as 13.74% | 20 to 25 days | None |
| Variable-Rate Platinum | variable rate as low as 12.74% | 20 to 25 days | None |
| Fixed-Rate Platinum | fixed rate as low as 13.99% | 20 to 25 days | None |
*The annual percentage rates listed are our best rates. Your rate and/or term may vary depending on credit history and underwriting criteria.
Rates valid for Thursday, June 8 2023