Adding Smiles to Our Communities
At Idaho Central Credit Union, we're in the business of making a difference—through volunteering, donations, and random acts of kindness. It's about seeing every day as an opportunity for us to do more than just our jobs. Doing our job isn't just showing up for work; it's showing up for our communities when and wherever they need us.
When you have the power to make a difference, you do it. We believe it's as easy as that.
Doing more. Being better. Adding smiles. Filling hearts. That's more than our job; that's building up our communities.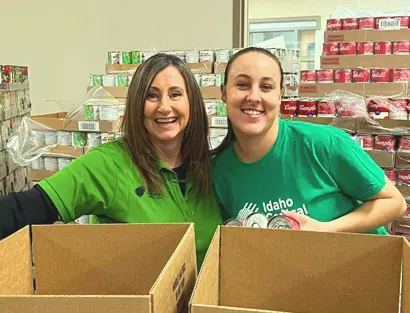 Idaho Central Credit Union is committed to giving back to the communities where we live and work. Our contributions are far reaching, and we promote involvement by supporting activities and organizations by utilizing three channels: Community Involvement, Community Economic Development, and Scholarships. Through these efforts, we make a difference and add smiles to our communities.
$1.12 MILLION was donated in 2022 by individual team members and Idaho Central Credit Union as a whole.
Service. Education. Fun!
To the Green Team, service needs to bring a smile, education needs to inspire growth, and community events need to be well… fun! Combine all three, and we believe you have the perfect formula for not only a great time but a stronger and more united community that can grow together and achieve financial success.
2,600+
Hours of Financial Education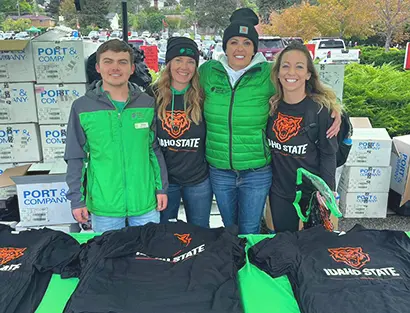 We Keep the Giving Going!
We approach giving with a wraparound mindset — by focusing our efforts on both financial education and living essentials, like food, education, housing, and community experiences. We aim to alleviate hardship and stress in our communities so they can have a stable foundation as they build financial health. Here are some of our primary areas of giving:
Food/Basic Needs
Food Banks
United Way
Idaho Youth Ranch
Community
Movies in the Park
Arts
Concerts
Youth/Family Events
Random Acts of Kindness (RAK)
Housing
Avenues for Hope
Habitat for Humanity
Aid for Friends
Our Path Home
Nonprofits
Education/Children
Idaho STEM Action Center
Athletics
Secondary Education Scholarships
Financial Education
Boys and Girls Clubs
And We Keep Giving
Idaho Central Credit Union and its employees give time and resources to many other causes.
Community Economic Development
We believe that when communities thrive, we all thrive. That's why we're dedicated to working alongside our neighbors to create new opportunities within the community, foster entrepreneurship, and build sustainable local economies.
Boise
Idaho Central Arena
Idaho Central Aquatics Center
Magic Valley
Pocatello
Holt Arena Remodel
Portneuf Greenway Trail
Idaho Central Credit Union Bengal Alumni Center
Moscow
Idaho Central Credit Union Arena
Palouse Ice Rink
Spokane
Idaho Central Spokane Valley Performing Arts Center (IDSVPAC)
Pickleball on Broadway
Coeur d'Alene
Idaho Central Credit Union Amphitheater at Riverstone Park
Sponsorship & Donation Request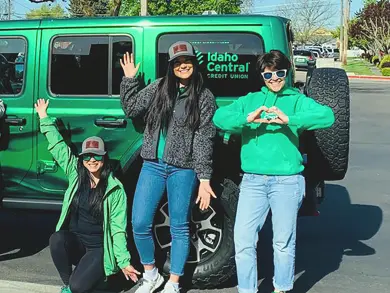 Idaho Central Credit Union is committed to giving back to the communities we serve and making them better places to live and work. If you have an upcoming event and feel Idaho Central would be the right fit as a sponsor, or are in need of a donation please let us know by filling out the request form below. We love getting involved!
At Idaho Central, we know that strong communities are created through daily moments of kindness — from person to person, one by one. Throughout the year, the Green Team loves to do just that… spread kindness.
Spreading kindness is part of who we are. For us, it's not just a job, it's a core value that we hold dear. Green is the color of love after all. Here are a few experiences by some of our team members.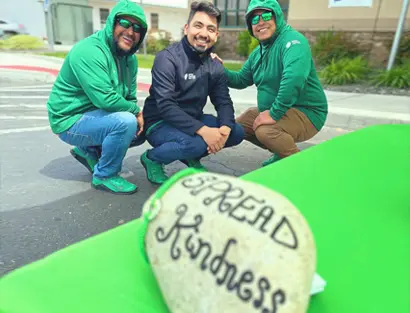 ---
Kyle noticed that his member was not in great spirits; it seemed like she was holding back tears. At one point, during their interaction, his member asked him, "Do you like life?" To some this may seem like a yes-or-no question, but Kyle saw an opportunity. He told her a little bit about his experiences and hardships that he had endured, and he told her how he was able to shift his perspective on life. He reminded her that, despite how hard it is to believe sometimes, how she is feeling is temporary, things will get better, and she can do big things. He was able to give her a hug and, hopefully, leave her with some reassurance that things will be okay. This kind of compassion is par for the course for Kyle.
–Kyle Bieker, Member Service Specialist
---
"Tonight as I picked my daughters up from daycare, as I was strapping them in their car seats, I noticed one of their teachers with her car hood popped and someone working on it. This woman is literally the nicest and does so much for me and my kids when she told me she thought it was just her battery and hopefully she would only need a new battery and nothing more, I could see in her eyes that it would be an unexpected cost and difficult on her family. I gave her a gift card and told her to use it towards a new battery or whatever needed fixed on the car. She was so grateful and had tears of joy! Thank you ICCU for letting us bless people's lives in so many ways."
– Jennifer Denley, Commercial Risk Analyst
---
On the night of Wednesday April 12th, Bradley Ostler helped assist a community member in an extraordinary way. Him, his wife, and stepson were on their way to drop his wife off at work and witnessed a pretty horrific car crash. Upon seeing the crash happen, Bradley immediately acted. He had his wife call 911 and he ran right over to assist the driver. The driver was unconscious and stuck in the vehicle. Bradley raced around to every door to try and get the man out, even climbing in the vehicle to try and kick doors out. During that time, the car had caught on fire. Onlookers told Brad that it was a lost cause, but Bradley was determined to find a solution. Once Chubbuck Police arrived on scene, and with Brad still in the vehicle, they were able to remove the man. While the officer administered CPR Brad immediately started directing traffic that couldn't see the road through the smoke of the crash. He stayed on the scene and helped until paramedics arrived. Brad's quick thinking and willingness to help, no matter the situation, is green shoes living at its finest.
– Bradley Ostler, Indirect Loan Processor