Not only will you receive great benefits with a Money Market Savings Account, but you'll also see your money grow even more as it earns interest each month. Just another way we are looking after your daily balance.
Six free withdrawals per month
Free checks
Minimum Balance to Open
$25
Minimum Balance to Earn Interest
$2,500
Monthly Service Fee
$15 if balance is less than $2,500
Number of Withdrawals
6/month ($5 for each additional)
You have all the tools you need to manage your accounts through the ICCU mobile app or on ICCU.com, anywhere, anytime. Check balances, transfer money, pay bills, set up alerts, and so much more.
My Credit is a free service powered by SavvyMoney® that helps you stay on top of your credit. Check your credit score, view your credit report, and get up-to-date credit monitoring notifications through ICCU mobile or online banking.
Bank face-to-face from anywhere in the world with a live service agent through ICCU's VideoChat. Not only is it convenient, it's secure and easy to use for account questions, opening a new account, applying for a loan, and much more!
Zelle is a fast, safe and easy way to send money to people you trust, right from the Idaho Central Credit Union mobile app – no matter where they bank.
More Options, More Saving
High five for High-Yield Online Savings! This online savings account earns our best savings rate. With its online convenience and incredible rate, you'll save above and beyond the norm.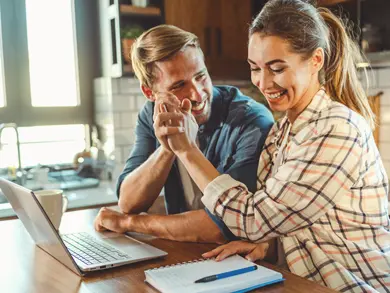 Money Market Savings
| Balance | APY* | Interest Rate |
| --- | --- | --- |
| 0-2,499 | 0.000% | 0.000% |
| 2,500-24,999 | 0.400% | 0.399% |
| 25,000-49,999 | 0.600% | 0.598% |
| 50,000-99,999 | 0.750% | 0.747% |
| 100,000+ | 1.000% | 0.995% |
*APY – Annual Percentage Yield
Rates valid for Monday, December 11 2023
The interest rate and annual percentage yield may change at any time, as determined by the credit union board of directors.