Financial institutions are seeing increased attempts to gain member account information through text scams, phone calls, and email phishing attempts. ICCU will never contact you to ask for secure or personal account information. Please contact us if you have questions or concerns about a text, phone call, or email.
Clicking links, opening attachments, or responding to suspicious emails can lead to data breaches, virus attacks, ransomware or more. We have turned to the security experts to provide some tips to help you avoid being vulnerable to suspicious texts, emails, and calls.
If you have received such a message, do not respond to the request. Instead, forward the message to abuse@iccu.com. We will handle it from there.
Just as we strive daily to keep you safe from cybersecurity threats, there are some things you can do too. Below are a few smart practices and information available to you here at ICCU that can keep your personal and financial information safe.

Reset your password regularly
Log in to your eBranch Online Banking and create a new password, or you can reset it now by clicking the link below.

Monitor your information
Identity theft is no laughing matter. Access CardControl and My Credit from ICCU to make sure your identity and transactions stay YOURS.

Personalized account alerts
Set up email or text alerts within eBranch. Financial alerts can be set up for balances, checks, and other transactions.

Use multi-factor authentication
MFA requires you to provide another verification factor along with your password to access your account. This can either be through a text message, email, or call to your phone. Visit a branch or call to learn more.
For any additional questions you may have on how to better protect yourself from security threats please contact us.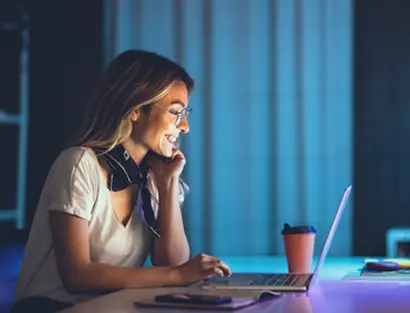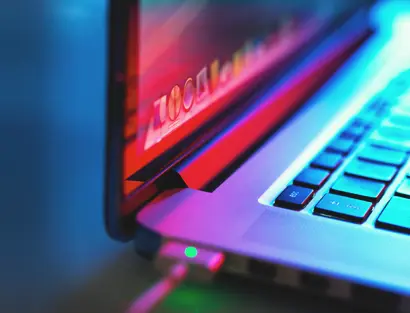 The internet is a dream come true and makes our lives easier. However, in the wrong circumstance, it can become a nightmare. We want you to feel confident in your ability to navigate the web. We've put together a few tips and tricks to help you feel secure while online.
Be alert for fraudulent or suspicious emails. Don't ever provide any personal information via email.
Keep your computer safe with a firewall and anti-virus software. Make sure updates run automatically.
Protect your passwords. Never use your ICCU password on other websites.
Only shop on secured websites.
Continue to stay educated in security procedures and best practices.
At Idaho Central, our goal is to help members achieve financial success. One way we do this is by instilling trust and loyalty in all aspects of your finances, especially account security. Here are a few ideas to help you become a pro in keeping your finances secure.
Set up and utilize all CardControl features.
Never give your credit card number over the phone unless you are dealing with a reputable company or initiated the call yourself.
Report lost or stolen cards immediately.
Make a record of your credit card account numbers and telephone numbers for reporting lost or stolen cards. Keep it in a safe place.
When selecting a PIN, always avoid the obvious. Memorize it.
Regularly review your account statements.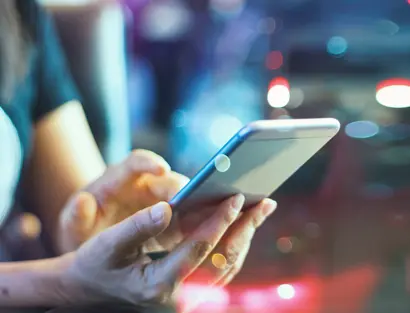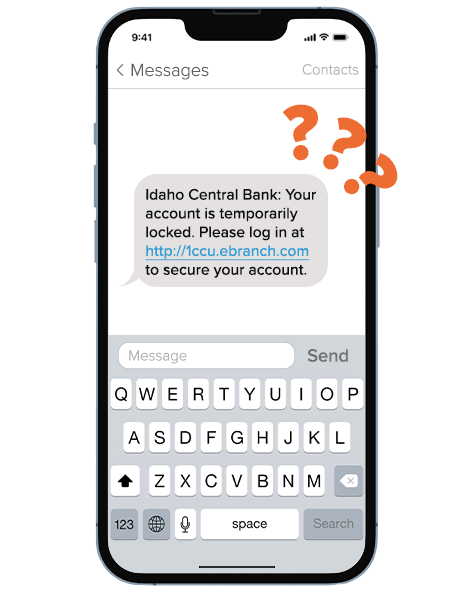 If you feel like you have been a victim of identity theft or have received any texts, calls, or emails from Idaho Central that appear to be suspicious, contact us. Check out some additional steps you can take to stay cyber-safe:
Contact one of the three major national credit bureaus: Equifax, Experian, and TransUnion. Request a copy of your report to check for any suspicious activities, inquiries, or delinquencies. If found, place a fraud alert on your credit report.
File a police report.
Contact any other creditors who deal with your money (i.e. other financial institutions, accountants, lenders, etc.).
Contact other agencies, as appropriate, such as US Postal Inspectors, Social Security, etc.
Report the identity theft to the Federal Trade Commission (FTC) by calling (877)-ID-THEFT or by visiting their website.
If you have received what appears to be a phishing email pretending to be from Idaho Central Credit Union, do not respond to the request. Instead, forward the email to abuse@iccu.com. We will handle it from there.
Already Clicked on a Phishing Link?
Scammers are getting more deceptive making it easier for people to fall victim to their tricks. If you have already clicked on a phishing link or feel like your information may be compromised, perform these steps now.
Ensure your device has not been infected with malware or spyware. For assistance, contact a trusted local computer / cell phone repair location.
Change your eBranch username and password. You can do this by visiting your security settings. For further assistance, please contact us.
Change your email password. Many malicious links are designed to intercept this data and can result in further compromises.
Notify ICCU of any unauthorized activity in your accounts. If unauthorized activity is present, additional steps may be necessary to prevent further fraud.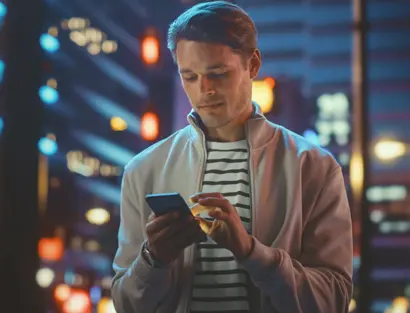 Different Types of Fraud
---
Phishing
Fishing and Phishing are not all that dissimilar; you throw a line out and hope something bites. Cybercriminals are Phishing all the time, making hundreds if not thousands of attempts to Phish for information. In most of the scams, fraudsters have bits of information such as your name and date of birth. They use this to Phish for more secure information such as your social security number, credit card number, or usernames and passwords. They also phish for access to your systems. Once they have enough information or access to your systems, it becomes possible for them to conduct multiple types of crime.
---
Vishing
Vishing is the practice of using the telephone to gain access to personal and financial data. In most Vishing scams fraudsters use trusted business or personal names to gain access to sensitive data. They do this by "spoofing" or masking the real phone number they are calling from to one that is trusted. They may also portray themselves as law enforcement or some other authority, allowing them to threaten actions if fines or other monies are not paid, or information is not given.
---
Smishing
A form of phishing, smishing is when someone tries to trick you into giving them your private information via a text or SMS message. Smishing is becoming an emerging and growing threat in the world of online security.
---
Work From Home Scams
Do you want to make hundreds or even thousands of dollars from home for doing practically nothing? If this is the overall message received when soliciting work, be cautious, it is probably fraud. Most of the Work from Home Scams involve finding a job online through sites like Craig's List. The work offered is usually very basic, pays well and almost always requires the person to send, move or transact money for the "employer."
---
Secret Shopper
You're asked to deposit a check into your bank immediately. After the deposit has been made, your first assignment is to visit your local Western Union or Money Gram location and send money. This is a scam! You are converting a fraudulent check into cash when you deposit the check into your account. Once you send the money the fraud is complete, the check will bounce and the account will become negative. You become liable to repay the negative balance.
---
Inheritance
This scam is initiated when someone calls unexpectedly to inform you that you are inheriting, have been left, or are entitled to a large sum of money. The money is usually coming from a distant relative you have never met. In some cases, you are put in charge of the "estate" and entrusted to divide up the money among family and friends.
---
Elder Abuse
Occurs when a caregiver or any other person knowingly neglects or causes harm to a vulnerable adult. Elder abuse can take many shapes including Physical Abuse, Sexual Abuse, Emotional Abuse, Neglect, Abandonment, Self-neglect, Exploitation, and Financial Abuse.
---
Tech Support Scam
This occurs when you receive an unsolicited call from someone pretending to be from technical support. The fraudsters pretend to be from a well-known company often using technical language and claiming to be calling to fix a problem with your computer. They will try to convince you to allow them to gain access to your computer, once they receive control of your computer they will search for personal and financial data and often infect the computer with malicious software designed to continue to feed them information unbeknownst to you.
---
Romance Fraud
Each year millions of Americans visit online dating sites. While the vast majority of encounters on these sites are legitimate, a small segment of encounters can turn into fraud. In most of these scams, you are contacted by an individual who seems interested in starting a relationship. Weeks and sometimes even months go by when emails, texts, phone calls, letters, and even gifts are exchanged. However, sometime during this courtship, the conversation will turn financial. This person you have been dating will run into some financial problem and need your help. In most cases, the person is overseas and needs help either moving or transacting money.
---
Sweepstakes/Lottery
Congratulations, you're the winner of $5,000,000.00 in the Grand Sweepstakes! Just pay the taxes, lawyer fees, customs fees, IRS penalties, etc. to get your money. These scams are always the same, pay a little money now and get a large sum later. The problem is these are always fraud and you will pay these small fees over and over and will NEVER receive a payout. Unless you buy a ticket or enter a lottery, you can't win a prize. All legitimate lotteries will take the fees or taxes from the winnings. You will never have to come up with money before you receive your prize. Requests to pay money upfront are always a red flag.
---
Check Washing
Check Washing is a process when ink is chemically removed from a stolen check. The check is then re-written to a different merchant or company for a higher amount and cashed. These checks are often retrieved by the fraudsters from residential mailboxes.
---