Benefits that Go Above and Beyond
Local Underwriting & Servicing

We know our markets.

Low Fees

Let's save you money!

First-Time Homebuyer

Little to no money-down options.

Fast Approvals

Your time is precious.

Extended Rate Lock

We offer 90-to 360-day options.

Fast Closings

Most loans close within 30 days!
Are you buying, refinancing, or building?
Idaho Central offers a variety of home loans designed specifically to meet your needs.
Calculator loading…
Information and interactive calculators are made available as self-help tools for your independent use and are intended for educational purposes only. Any results are estimates based on the information provided by you, the user.
Tailored to your unique circumstances, our personalized mortgage rate quote tool asks you a few questions about your current financial situation. Based on your answers you will be given a list of rates that fit your needs. Get your personalized mortgage rate today.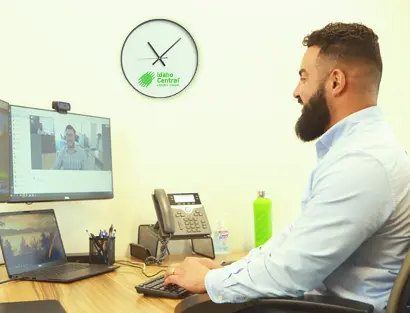 Have questions? Our Mortgage & Construction Loan Officers are ready to help. Feel free to give us a call or email regarding any of your mortgage needs. We love questions!
Ever wonder what your credit score is or how to improve it? Well, let's introduce you to My Credit! With a simple click you can check your credit score each time you log into eBranch. And yes, it's all free. Awesome credit score here you come!