Find out how to get tickets and info on concerts in your area.
We survived another northwest winter (with snowpack 120 percent above average!) and there's no better way to celebrate this newfound sun than with a lineup of concerts and music festivals.
Because no two concerts are alike, we can't give you one catch-all hub to buy tickets and ask questions. But we can do the next best thing — we'll show you exactly what we know and where you can learn more. Use this guide to get an overview of each concert sponsored in your area.
Idaho Central Credit Union partners with music venues throughout Idaho and Eastern Washington to bring together communities and local businesses. Our role in each partnership varies. The venues themselves deserve the credit for making these shows a reality!
Summer Concerts in Treasure Valley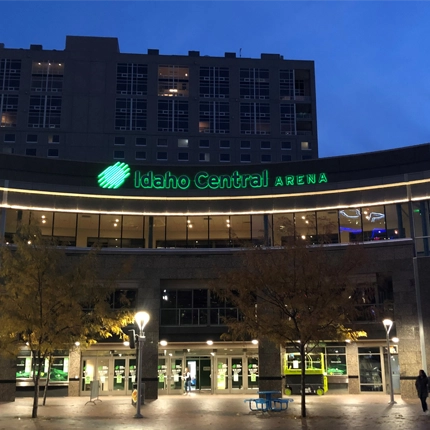 The entrance to the Idaho Central Arena in downtown Boise.
Idaho Central Arena (Boise)
We don't know how they do it, but the Idaho Central Arena in Boise is both a jack of all trades and a master of, well, almost everything. Whether you're in the mood for a Billboard Hot 100 artist, a dance performance, or even a flower show, you won't be disappointed. The arena announces new acts all the time, so be sure to check their site often for an updated list. Idaho Central Credit Union has naming rights to the arena.
More Information
Tickets: Idaho Central Arena
Contact: 208-424-2200
Location: 233 S Capitol Blvd, Boise, ID 83702
Idaho Botanical Garden – Outlaw Field (Boise)
If you're looking to experience a unique concert venue, Outlaw Field is the one for you. Before it took its place as one of Western Idaho's most popular venues, Outlaw Field operated as a prison yard for over 100 years. Now it's part of the Idaho Botanical Garden, a nonprofit situated next to the Greenbelt River in the heart of downtown Boise. As the presenting stage sponsor, we're excited to announce big names like The Avett Brothers, Modest Mouse, and Kelsea Ballerini. Concerts run all summer long but be warned — tickets sell out fast. See a full list of performers and dates on the Idaho Botanical Garden's website.
More Information
Tickets: Idaho Botanical Garden
Contact: 208-343-8649
Location: 2355 Old Penitentiary Rd. Boise, Idaho 83712
Stoney's Road House (Emmett)
Stoney's Road House is a country music lover's dream come true. Though it may be in an old Boise Cascade laminate plant, don't let the factory façade fool you. Boasting a 2,300 sq ft dance floor and a massive, elevated stage, Stoney's expertly combines urbanity with a classic country vibe to give you an unforgettable concert experience. Stay tuned to see 2023's lineup! Idaho Central Credit Union is a concert sponsor of Stoney's Road House.
More Information
Tickets: Stoney's Road House
Contact: 702-435-2855
Location: 1050 Cascade Rd, Emmett, ID 83617
Ford Idaho Center (Nampa)
The Ford Idaho Center doesn't mess around. With 25+ artists already confirmed, this arena has a little something for everyone. Country, rock, alternative, you name it. Since 1997, the center has housed countless memories for locals and visitors alike — and given 2023's all-star lineup, it doesn't show signs of slowing down anytime soon. Check out their site to get more information on artists like Luke Bryan, Young the Giant, and Lindsey Stirling. Idaho Central Credit Union is a sponsor at the Ford Idaho Center Arena.
More Information
Tickets: Ford Idaho Center
Contact: 208-442-3232
Location: 16114 N Idaho Center Blvd, Nampa, ID 83687
Boise Music Festival (Garden City)
Every year, concert goers flock to the Boise Music Fest, a 12-hour event complete with nationally acclaimed artists, carnival rides, and more. As one of the Treasure Valley's biggest annual music events, it's known for its one-of-a-kind shows and genre-diverse lineups. June 24 is coming quickly, though, so be sure to get tickets ASAP. Idaho Central Credit Union is a supporting sponsor of the Boise Music Festival.
More Information
Tickets: Boise Music Festival
Contact: 208-344-6363
Location: 5610 Glenwood St., Garden City, ID 83714
Summer Concerts in Eastern Idaho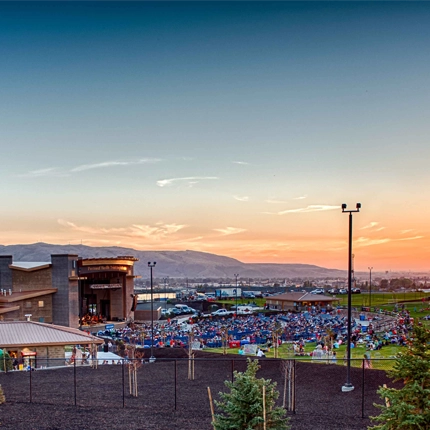 Portneuf Health Trust Amphitheatre (Pocatello)
Surrounded by breathtaking mountain views and set next to a 6.5-acre lake, this world-class amphitheater is the ideal spot for any outdoor concert. Bannock County has an extensive lineup prepared for Southeast Idahoans that begins early spring and lasts until late fall. Tickets for the first few concerts, including Jon Pardi and Riley Green, are on sale now! Idaho Central Credit Union is a sponsor of the venue and several concerts.
More Information
Tickets: Bannock County Event Center
Contact: 208-237-1340
Location: 2375 Olympus Dr, Pocatello, ID 83201
Eastern Idaho State Fair (Blackfoot)
The Eastern Idaho State Fair is bringing back old-fashioned fun, and trust us, it's not something you want to miss. Dating back to 1902 (almost 125 years!), this week-long event brings together nearly a quarter-million visitors annually, and just a glance at the scheduled entertainment will show you why. Catch ICCU-sponsored livestock competitions, award-winning fair food, demolition derbies, and incredible performances from artists like Walker Hayes — all from September 1 to 9, 2023. In-depth schedules for each fair day will be released on the State Fair's website in the early summer.
More Information
Tickets: Fun at the Fair
Contact: 208-785-2480
Location: 97 Park Street, Blackfoot, ID 83221
Summer Concerts in North Idaho and Eastern Washington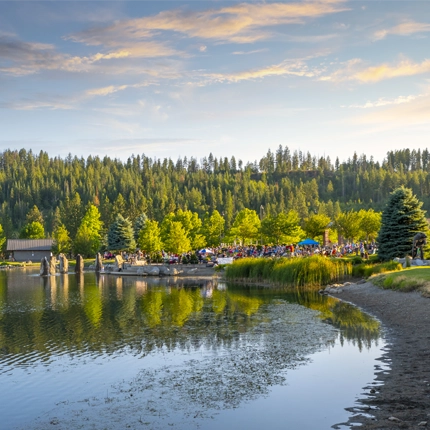 Idaho Central Credit Union Amphitheater at Riverstone Park (Coeur d'Alene)
The Riverstone Summer Concert Series is the perfect way to revel in both beautiful views and good music. Catch a concert at 6 PM every Thursday in July and August. Artists will be announced as the dates get closer. Idaho Central Credit Union has naming rights to the amphitheater.
More Information
Tickets: Coeur d'Alene Arts and Culture Alliance
Contact: 208-292-1629
Location: 1805 Tilford Lane, Coeur d'Alene, ID 83814
North Idaho State Fair (Coeur d'Alene)
Musicians, watermelon eating contests, monster truck rallies — the North Idaho Fair has it all. Join us, a co-presenting sponsor, on August 18–27 to celebrate Idaho's agriculture and community. Stick around on August 21–23 for the annual Party in the Dirt Concert, featuring artists like Carly Pearce and Chase Rice. Tickets for each concert day are on sale now.
More Information
Tickets: North Idaho State Fair
Contact: 208-765-4969
Location: 4056 N Government Way, Coeur d'Alene, ID 83815
Spokane County Interstate Fair (Spokane)
The Spokane County Interstate Fair takes fun to the next level with creative agricultural themes like "Lettuce Turnip the Jam" and "Pirates of the Carrots and Beans." Experience a carnival, rodeo, and the best of Spokane's agricultural history from September 8 to 17, 2023 — and be sure to see an ICCU-sponsored concert while you're at it! More information will become available on the Spokane County's website as the dates get closer.
More Information
Tickets: Spokane County Interstate Fair
Contact: 509-477-2787 (pre-recorded line)
Location: 404 N Havana St, Suite 1, Spokane Valley, WA 99202
2023 Summer Country Showdown (Moscow)
Get ready for two days of music, food, and fun in the ICCU Arena at the University of Idaho. The arena itself is brand-spanking-new; built in 2021, it boasts 67,000 square feet, seating for over 1,000, and a premium club area. On August 25 and 26, you'll get the chance to see hit country artists and independent artists who were born and raised in North Idaho. Check their website regularly — a full lineup will be announced soon! Idaho Central Credit Union has naming rights to the arena and is a sponsor of the festival.
More Information
TBA