What is Bitcoin?
To keep things simple, bitcoin is digital money that allows for secure peer-to-peer transactions on the internet without the need of an intermediary (Financial Institution). Transactions are verified and recorded in a public ledger called a blockchain through a process called mining.
Decentralized
Bitcoin enables financial transactions on a peer-to-peer basis without the need of a financial institution.
Free
Bitcoin software is free to download and can be installed by anyone, anywhere in the world.
Digital Scarcity
The supply of bitcoins is finite and capped at 21 million. The issuance of new bitcoins declines to zero over time.
No Censorship
Bitcoin is a decentralized network not controlled by a single person, organization, or government, rendering it nearly impossible to suppress access or deny transactions.

Bitcoins are created by the software itself as a reward for a process called mining. Mining is the action of gathering Bitcoin transactions and creating new blocks. Blocks are a new batch of transactions that have been grouped together and appended to Bitcoin's growing ledger of transactions called the blockchain.
But how do miners get these bitcoin transactions and turn them into blocks? By solving a complex cryptographic problem posed by the Bitcoin protocol. On average, a new block is created every 10 minutes. For creating new blocks, miners are rewarded with new bitcoins created by the protocol itself as well as fees paid by those sending bitcoins.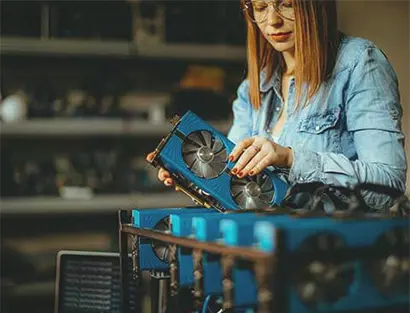 How Does One Use Bitcoin?

We have partnered with NYDIG to allow you the chance to have your very own Bitcoin account through the ICCU mobile app. This account allows users to receive, hold, and send bitcoin in a matter of seconds. It's simple and easy to access right on your mobile devices.
Log into your ICCU mobile app.
Locate the Crypto widget by selecting "More" (three horizontal lines).
Accept all the terms and conditions.
Voilà! You can now buy, save, or sell bitcoin all while viewing your current Bitcoin account balance.
Not an ICCU member yet? Join today!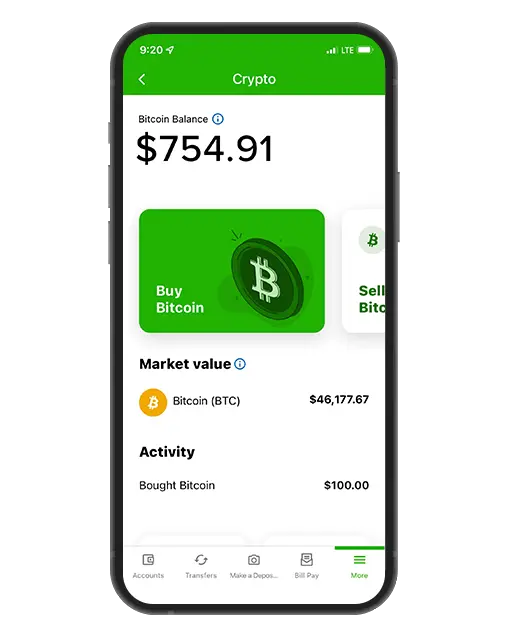 How Is Bitcoin Maintained?

Bitcoin has been under active development since its inception in 2009. Over 300 developers from around the world actively contribute to the building of Bitcoin and the surrounding ecosystem of software applications monthly. No financial institution or developer has the ability to change or manipulate, in any way, the ecosystem of Bitcoin to increase their profits.
Bitcoin has a process by which new features are implemented, called the Bitcoin Improvement Proposal (BIP). BIP is a design document for introducing features or information to Bitcoin and proceeds as follows:
BIPs start as new ideas by a developer and are generally written as a design document.
Developers discuss the drafted BIP through various discussion forums and build a developer consensus.
The BIP is then submitted to the bitcoin-dev mailing list with the BIP's author collecting feedback and changes.
BIPs that are accepted move into the reference implementation or coding phase.
Once the reference implementation is complete and accepted by the community, the process will be complete.
Bitcoin is developed in a collaborative manner with discussions on GitHub, mailing lists, and chat channels.

*Bitcoin execution and custody services are provided by NYDIG Execution LLC ("NYDIG"). NYDIG is authorized by the New York State Department of Financial Services to engage in virtual currency business activity. To receive bitcoin services you must open an account with NYDIG in which your bitcoin will be held (the "NYDIG Account"). Please refer to NYDIG's Terms and Conditions for more information, including applicable eligibility criteria.
Bitcoin balances in your NYDIG Account are not insured by the Federal Deposit Insurance Corporation (FDIC), National Credit Union Share Insurance Fund (NCUSIF), the Securities Investor Protection Corporation (SIPC), or any other public or private insurer; are not deposits or obligations of Idaho Central Credit Union (ICCU); are not guaranteed by ICCU; may have associated fees; and may not allow member recourse.
NYDIG does not make any recommendations regarding buying or selling bitcoin. There are risks associated with bitcoin trading, which may be heavily speculative and volatile including possible loss of value. See Terms.